The registration process is slightly different depending on your business entity. Please find your entity type below to know which documents and information to have ready in order to open an account in less than 10 minutes! If you haven't already, please sign up on our website to get started and enjoy no-fee banking with Relay!
Beneficial Owner (All Business Types)
Photo of Government-issued ID*

Social Security Number (SSN) [U.S. citizens] or Passport Number [Non-U.S. citizens]

Personal Address of Beneficial Owner

Position / Title of Beneficial Owner

Personal and Business Phone Numbers

Email Address

Beneficial owners include:
Each individual, if any, who owns, directly or indirectly, 25 percent or more of the equity interests of the legal entity customer (e.g., each natural person that owns 25 percent or more of the shares of a corporation); and**

An individual with significant responsibility for managing the legal entity customer (e.g., a Chief Executive Officer, Chief Financial Officer, Chief Operating Officer, Managing Member, General Partner, President, Vice President, or Treasurer).**
*For international owners, Relay requires a photo of a passport for the Government-issued ID field.
** All Beneficial Owners must be over the age of 18 at the time of registration. We are unable to offer our services to businesses that are owned, wholly or partially, by minors.
LLC's, Corporations, and General Partnerships:
Employer Identification Number (EIN)*

U.S. Business Address and Phone Number**

Legal entity name

Industry

Description of business operations

State of Incorporation
*Employer Identification Number (EIN) Verification Letter may be requested for verification purposes.
** Additional documentation such as Articles of Organization, Company Bylaws, Certificates of Formation etc. may be requested for additional verification.
Sole Proprietor:
DBA (Doing Business As) [if applicable]

Social Security Number (SSN)

U.S. Business Address and Phone Number

Industry

Description of business operations
Government-Issued Photo ID Requirements
It can be a U.S. driver's license, a state ID, a Military ID, Tribal Identification Card, or a passport (U.S. and non-U.S. citizens). Passports are required for non-U.S. citizens. Expired IDs cannot be accepted.
The image must be of the original document. Scanned copies are not permitted. The image file must be PNG,JPG, orJPEG. It must be a color image with no blur or flash, with the ID aligned horizontally. The four edges and corners of the ID must be clearly visible. Please follow the example below to guarantee its acceptance.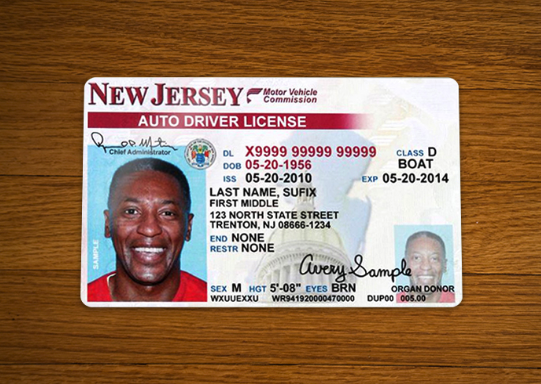 Sample photo
Other Document Formats
File types for other legal documents must be PNG,JPG,JPEG or PDF.
Legal documents include:
EIN Verification Letter
Articles of Incorporation
Company Bylaws
Articles of Organization
Operating Agreement
Multiple Ownership
If more than one person has 25% or greater ownership of the company, they must be invited to Relay during initial registration. Please have all owner emails on hand when signing up. Once all owners have registered, the account will be ready to use!
International applicants with U.S. entities
Relay accepts U.S. entities with owners holding non-U.S. citizenship as well as being based outside of the U.S. Relay requires the entity to have an operating presence in the U.S.
We do not provide bank accounts for residents of U.S. sanctioned countries and a few others. This list can be found in this article: Countries not Supported.
Are there any industries that Relay doesn't support?
Relay is unable to support businesses that deal in providing or exchanging cryptocurrency, sale of firearms or weapons, credit repair, privately owned ATMs, money services, unlawful internet gambling, or cannabis sales. See the full list here of Industries Relay cannot support here.