Can I track my card?
Although Relay does not offer live tracking at this time, you can see the date that your card was shipped, which address your card was shipped to, and its expected delivery date, by visiting the Cards tab on your Relay account and clicking on the desired card.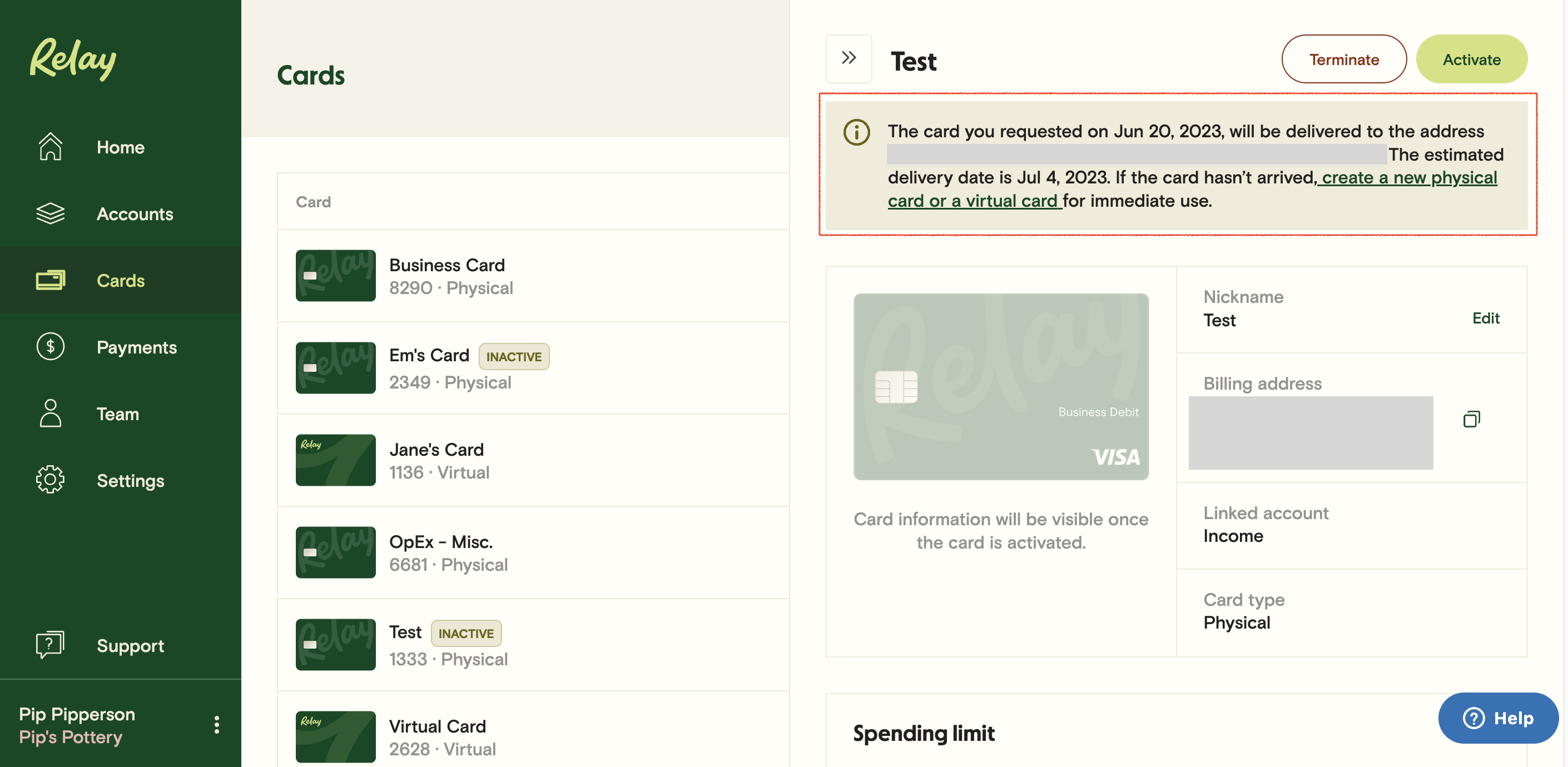 My estimated delivery date has passed - now what?
If you have not yet received your physical Relay debit card in the mail after the standard 8-10 business day timeline, it is possible that it may have gotten lost in transit.
If this has happened, there's no need to worry - cards cannot be used until they are activated on your own Relay account, so there is no risk of unauthorized use.
What do I do if my card is lost in the mail?
If you suspect that your card is lost in the mail, you can issue yourself a new physical card right within your Relay account under the Cards tab. You can even set up a virtual card in a matter of seconds so you can start making payments right away. Physical cards can be shipped anywhere within the U.S.
Please note that you can create up to 50 debit cards for your business on Relay - all free of charge!
For full instructions on creating a new card, please see How to Create a Relay Debit Card.
FAQs
How many cards can I create for my Relay account? Each business can issue up to 50 cards on Relay.

Can I make a cash advance through Relay? Relay cards do not support cash advances at this time.

Can I get a Relay credit card? Relay does not offer credit cards at this time. Currently, Relay only provides Visa debit cards which can be used anywhere credit cards are accepted. The card will only pull available funds from its account. It will not issue a credit.

Why isn't my virtual card activating? Virtual cards will only activate automatically when an account is fully verified. Once verified, virtual cards will be active immediately.