Sections in this article:
Card Arrival Information
One business day after your account is fully verified, your first physical card will automatically be sent to your business address on file. This card should arrive within 8-10 business days.
All physical cards issued from your Relay account should arrive within 8-10 business days after issuing it to your registered business address. A tracking number is made available for the shipment of physical cards within 1-3 business days after issuance. The tracking can be accessed on desktop with the card's details. See below: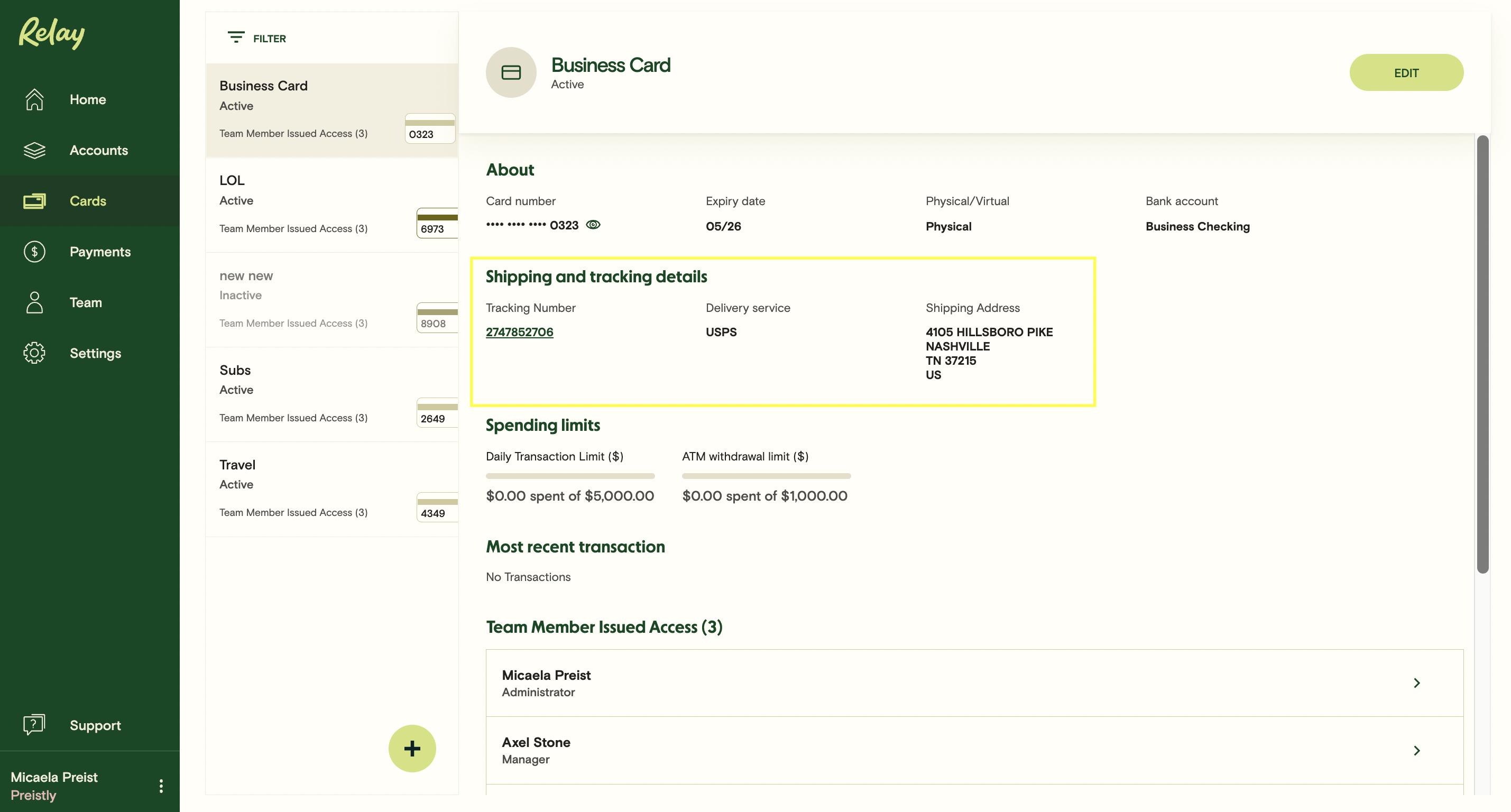 If you don't get your card in the mail by then, please reach out at support@relayfi.com.
While your physical card is shipping, we recommend issuing a virtual card in the meantime (issuing cards is free on Relay). Virtual cards are activated right away, are great for online purchases, and are Apple and Google Pay compatible. Please refer to this article for more information on how to create your virtual Relay card.
FAQs
How many cards can I create for my Relay account? Each business can issue up to 50 cards on Relay.

Can I make a cash advance through Relay? Relay cards do not support cash advances at this time.

Can I get a Relay credit card? Relay does not offer credit cards at this time. Currently, Relay only provides MasterCard debit cards which can be used anywhere credit cards are accepted. The card will only pull available funds from its account. It will not issue a credit.

Can I get my Relay card shipped internationally? Our system automatically sends physical cards to the US business address on file. Relay cards cannot be shipped internationally.

Why isn't my virtual card activating?

Virtual cards will only activate automatically when an account is fully verified. Once verified, virtual cards will be active.
Additional articles you may find helpful
Questions? Get in touch with our Support Team at support@bankwithrelay.com or 1 (888) 205-9304.