With this article, you will be able to set up the Bill Pay feature for your Relay account using Xero.
Sections in this article:
Integrating Xero with Bill Pay
Once you have integrated Xero for bank feeds, you can set up Bill Pay with Xero. Bill Pay pulls unpaid bills from Xero into Relay in order to streamline accounting processes.
The bank feed connection ensures that bills are marked as paid in Xero when a bill payment is made in Relay.
For more information on Xero bank feeds and Bill Pay, please see these articles:
How to set up Bill Pay for Xero
Click the Payments tab on the left-hand panel once logged into Relay.
Click the Set Up Bill Pay button under the Payables section. This will bring you to the Bill Pay setup page.
Under the Applicable Integrations section, click on the green Connect button.
You will be brought to the Xero Log in page. After logging in by entering your credentials, you will be brought back to Relay.

It may take a few seconds for Xero to finish connecting to your Relay account.
Next, in your Relay account, go to the Settings tab on the left-hand panel, and select Integrations. Ensure Xero is connected under the Bill Pay section.
After selecting your preferred integration setup, click the Save button on the bottom right-hand corner.
You can select either of these options:
Automatically import all unpaid bills and associated payees

Manually select payees to import their associated bills
You are now integrated for bill pay!

You can Disconnect or Edit your Xero Bill Pay integration by going to Settings and then clicking on the Integrations tab.

How to Manually Sync Unpaid Bills from Xero
Relay automatically syncs your unpaid bills from your Xero account every 3 hours, starting at midnight UTC. You can also sync your unpaid bills manually on Xero at any time. To do so, please follow the instructions below.
In the Payments tab click Unpaid Bills under the Payables tab.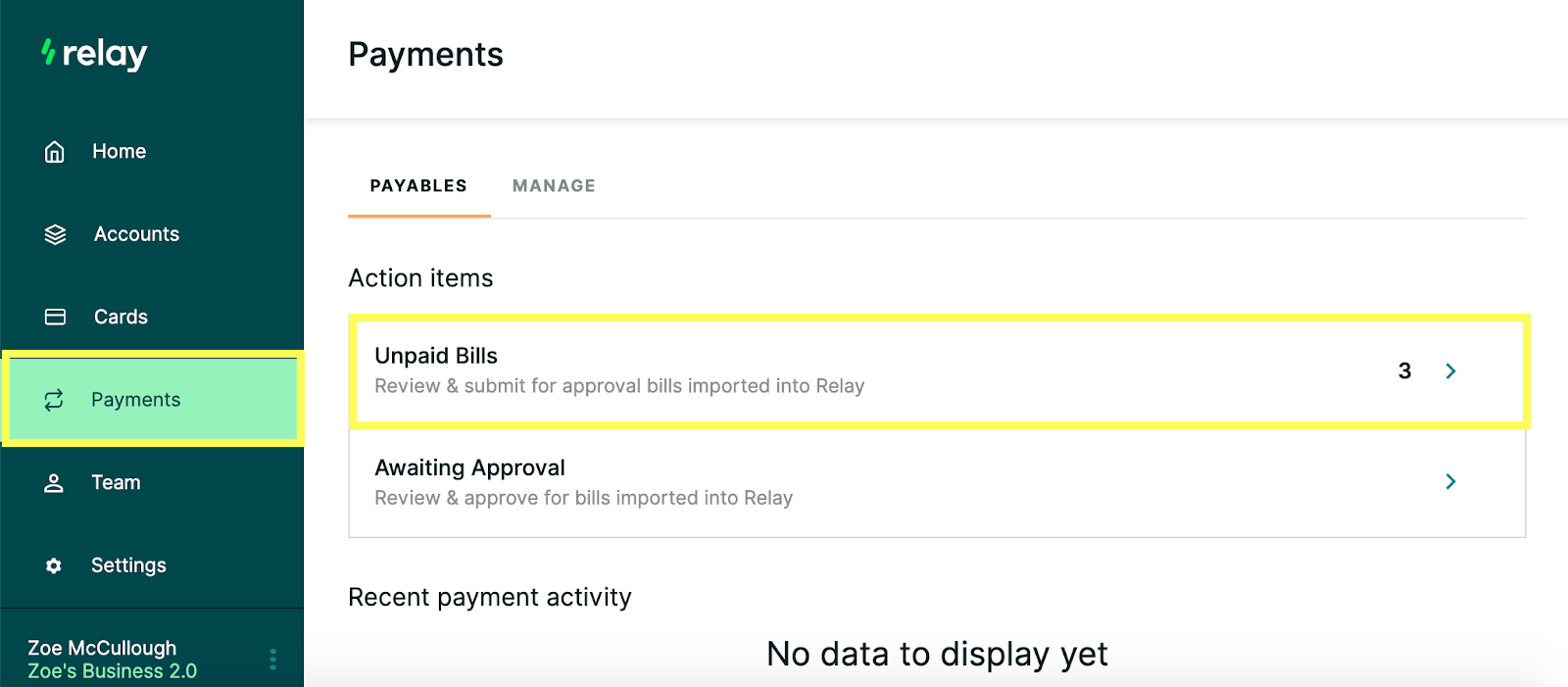 Under Action Items, click Sync Now.

After syncing, you will see all approved bills listed from Xero.

You can: Initiate Payments, Mark as Paid, View Bills in Xero, or View Attachments by clicking on the three dots at the far right side of each unpaid bill.

Or select the boxes beside the Payee Name for similar options to action on bills in batches.
Frequently Asked Questions
What if I don't use Xero? What platforms does Relay work with? As of now, Relay offers Bill Pay integration options for Xero and QuickBooks Online. You can also connect your platform with Relay if you use Plaid for other bill pay platforms.
How often does Relay sync with my Xero account? Relay automatically syncs your unpaid bills and bill payees from your Xero account approximately every 3 hours.
Things to Know
Only settled transactions will appear in Xero's bank feed.

Xero does not automatically sync checking account name changes completed in Relay. Account name changes must be completed both in Relay and Xero.

Bills must be filled out and approved in Xero in order to be synced to Bill Pay.

A new payee is created in Relay whenever a bill with a new payee is imported from Xero.