To use the bill pay feature in Relay, you will first need to integrate your Xero or QuickBooks Online account with Relay. More information can be found here for Xero and here for QuickBooks Online.
Once the bill pay feature is enabled, Relay automatically imports your unpaid bills from your accounting software. Once your bills are imported, you can set up approval workflows, and pay via ACH, wire, or check, all within Relay!
This article gives an overview of Relay's bill pay feature, which is offered as a part of Relay Pro.
Sections in this article
How to navigate to the bill pay page in Relay
Navigate to the Payments tab in your Relay account.

Click on Unpaid Bills.
Bill pay tabs
On the bill pay page, you will see all your bills that were imported into Relay. Bills are separated into different tabs to support your workflow.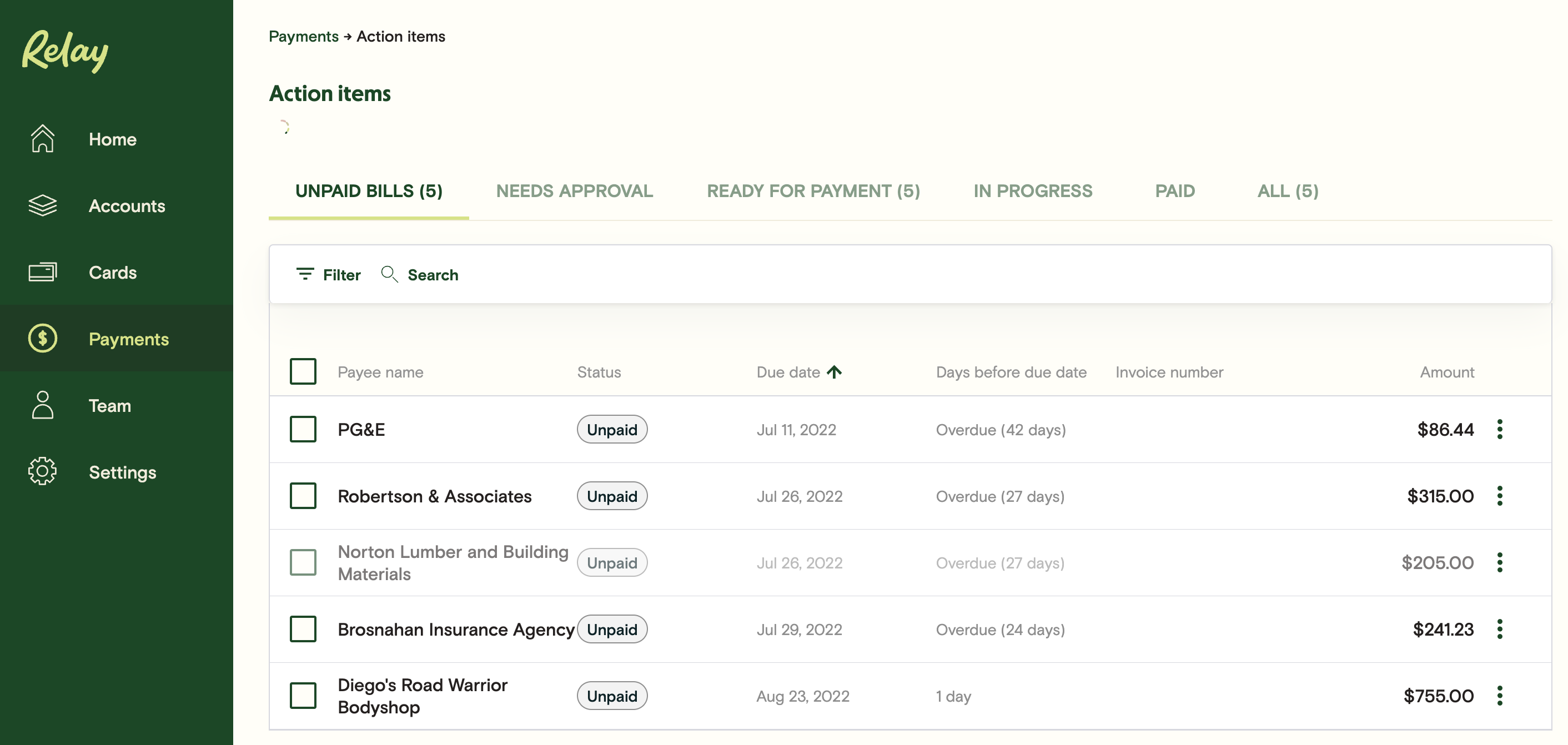 Below are descriptions of which bills will be listed under each tab:
Unpaid bills: All bills imported from Xero or QuickBooks that are currently unpaid. This includes bills that may require approval or may not require approval.

Needs approval: Any bill that needs to be approved before payment. To learn more about how to set up approval rules for your bills in Relay, click here.

Ready for payment: Bills that are ready to be paid. This includes bills that do not need approval and bills that have already been approved.

In progress: All bills for which a payment has been initiated but has not yet settled.

Paid: All paid bills for which the payment has settled.

All: All paid and unpaid bills.
The status of a bill will be automatically updated to "paid" in Xero/QuickBooks as soon as a payment is issued for it in Relay. Therefore, all bills listed under the "In progress" and "Paid" tabs will be marked as "paid" in Xero/QuickBooks.
Within each tab, you will see an easy-to-use table view with key details about each bill, including the payee name, due date, status, invoice number (if available), and amount of the bills. Bills are sorted by default based on the due date, with overdue and shortly due bills showing up on top.
Searching, sorting, and filtering bills
You can search for a specific bill using the vendor name or invoice number. To learn more about filtering and sorting bills, please see this article.
Individual bill view
You can click on a specific bill within the bill pay table to view additional bill details.
Within the bill view window, you can navigate between bills by clicking on the arrows in the top right corner of the screen.
You can also switch between different tabs. To do this click the arrow beside Unpaid Bills and select a new tab name from the drop-down.
Making batch bill payments
With the new bill pay feature, you can pay multiple bills at once. You can also combine multiple bills associated with the same payee into a single transaction. For more information on how to make batch bill payments, please click here.
Request payee information
Relay imports payee information from Xero and QuickBooks Online. If you do not have the payment details for a payee, you can request this information when paying a bill in Relay. For more information, please see this article.