This article is intended for accountants and bookkeeper users, and contains instructions on how to upgrade a client's account to a Relay Pro subscription.
Please note that only accountants or bookkeepers with Administrator or Super Administrator permissions can upgrade a client's account on their behalf.
Sections within this article
How can I upgrade my clients to Relay Pro as an advisor?
To upgrade a client to Relay Pro, you must ensure that you are signed into the Partner Portal as an advisor, and not a business or client account.
1. Within the Partner Portal, you will see each client listed, with three vertical dots at the far right side of their name.

2. Click the three vertical dots for your specific client, and then click Upgrade to Relay Pro.
3. You will now be taken to the Billing and Plans page for your client. Click the Change Plan button at the right corner of the Current Plan box.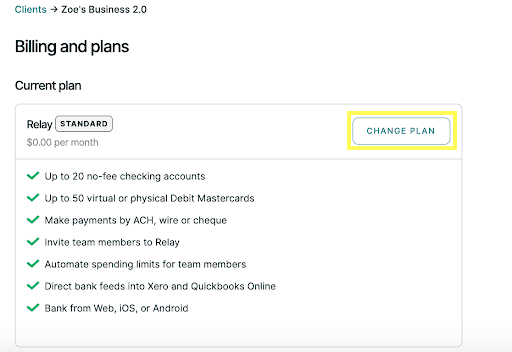 4. Click the green Upgrade button at the top right corner of the Relay Pro box.
5. You will now be prompted to select one of the two billing options for Relay Pro.
Relay Pro can either be charged either to your firm's account or to your client's account.
6. After selecting the appropriate option, click the green Done button at the bottom right-hand corner.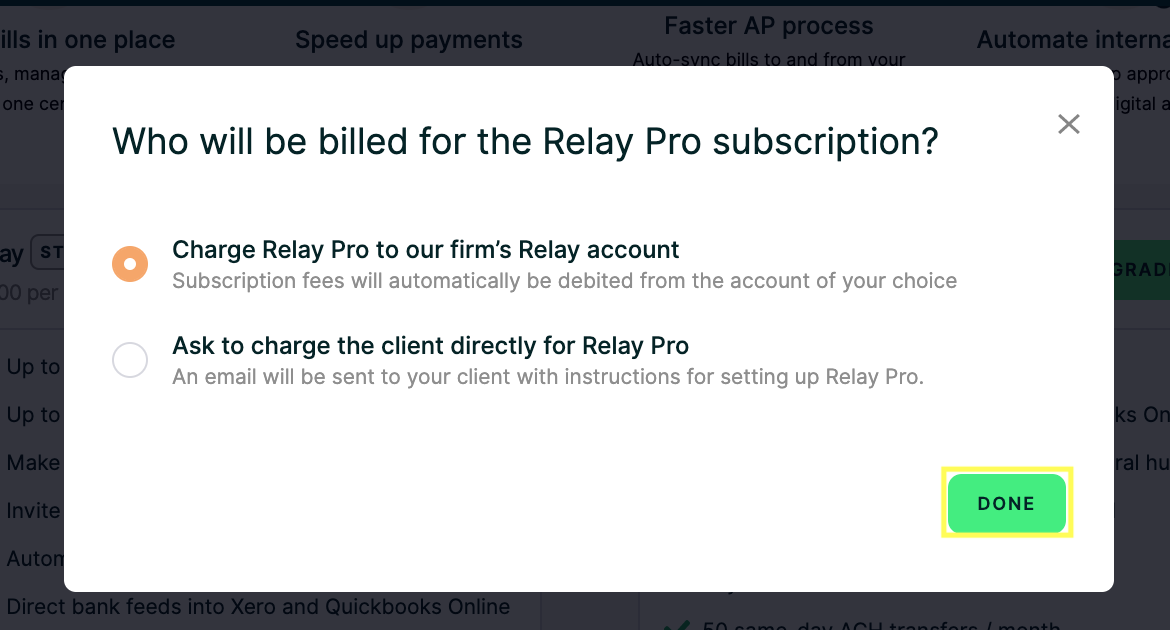 Paying on Behalf of a Client
If you choose to "Charge Relay Pro to our firm's Relay account", there will be a few additional steps to set up this payment.
You will be brought to a Subscription Details page, where you should select the account you wish to be charged to using the drop-down arrow menu.
Click Checkout to confirm this action.
Charging a Client Directly
If you choose to "Ask to charge the client directly for Relay Pro", the client will get notified of the request to turn on Relay Pro via email and will see a banner notification at the top of their account page when they log in.
The client will then need to upgrade to Relay Pro themselves, by following the instructions in this article: How can I upgrade to Relay Pro as a Business Owner?
You will see the page below as a confirmation that your client has been sent a notification.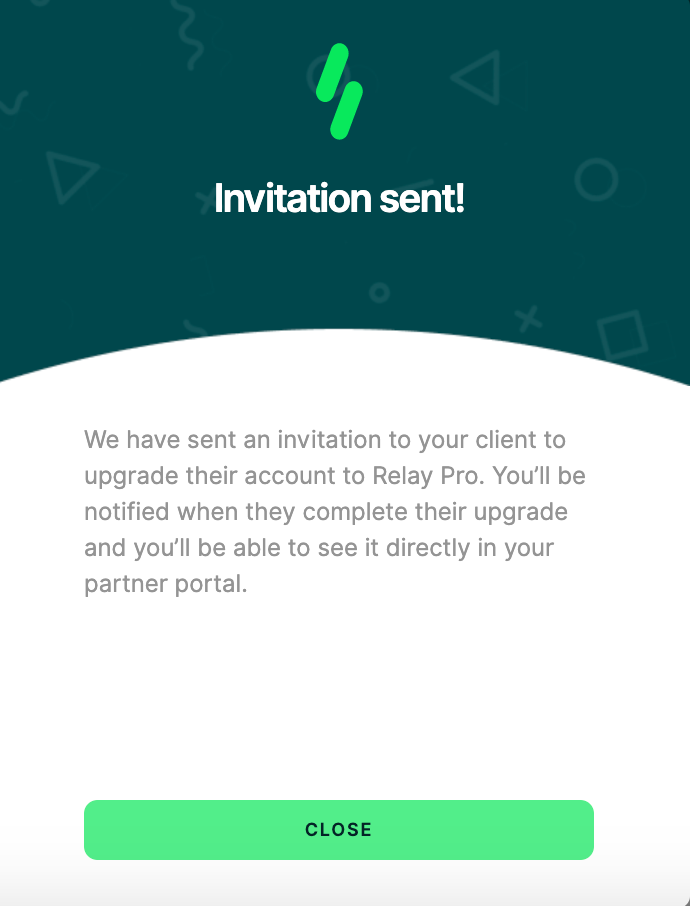 Things to Know
If you would like to pay on behalf of your client, you must first be registered with Relay for banking, as payments will be made via Relay checking accounts. You will be prompted to set up a Relay account if you have not done so already.

If an Accountant or Bookkeeper signs up for Relay Pro, then the pricing of their subscription will be dependent on that firm's status. Please see

this page for details on pricing.

Accountants and Bookkeepers will not receive free trials of Relay Pro for their clients.
Frequently Asked Questions
What if I don't see three vertical dots beside my client's account? If you don't see the three vertical dots beside a client's account, it is likely that you have not been invited as an Administrator or Super Administrator. In this case, you should request your client to adjust your permission level in order for you to upgrade to Relay Pro on their behalf.