This article will go over how businesses and advisors will be billed for Relay Pro and where to find the appropriate invoices in Relay.
Sections in this article:
Understanding your billing date
Currently, to pay for Relay Pro, you must choose which account you would like to be debited from each month. If you are missing the funds to cover your bill, or have closed the checking account associated with your subscription, you will be given a 7-day grace period before losing access to Relay Pro. You will continue to be billed unless you decide to cancel your subscription, which you can do by following this article.
Business accounts
When signing up for Relay Pro, business accounts will receive a 14-day free trial of the service that automatically renews into a paid subscription after the trial expires.
On the first day after the trial, you will be billed the full price of Relay Pro ($30). This will become the first day of your Relay Pro monthly billing cycle. You will be billed on the same day in each of the following months.
For example, if you upgrade to Relay Pro on January 1st and your free trial ends on January 14th, the first day of your Relay Pro billing cycle will be January 15th. You will be billed on January 15th, February 15th, March 15th, and so on.
Accountant and bookkeeper advisor accounts
Accountants and bookkeepers have the option to cover the Relay Pro charge for their clients. Therefore, you will be charged on the same day each month no matter how many clients you cover. The billing day will be determined by when you switched your first client over to Relay Pro.
For example, if Firm ABC turns on Relay Pro for Acme Inc on January 1st and then turns on Relay Pro for Mars Inc on January 15th, they will be charged once on January 1st and once on February 1st. The January 1st invoice will be $30 for Acme Inc and the February 1st invoice will be for $60 to cover Acme Inc and Mars Inc.
Where to find your Relay Pro invoice
Relay Pro invoices can be found in Settings > Billing and Plans.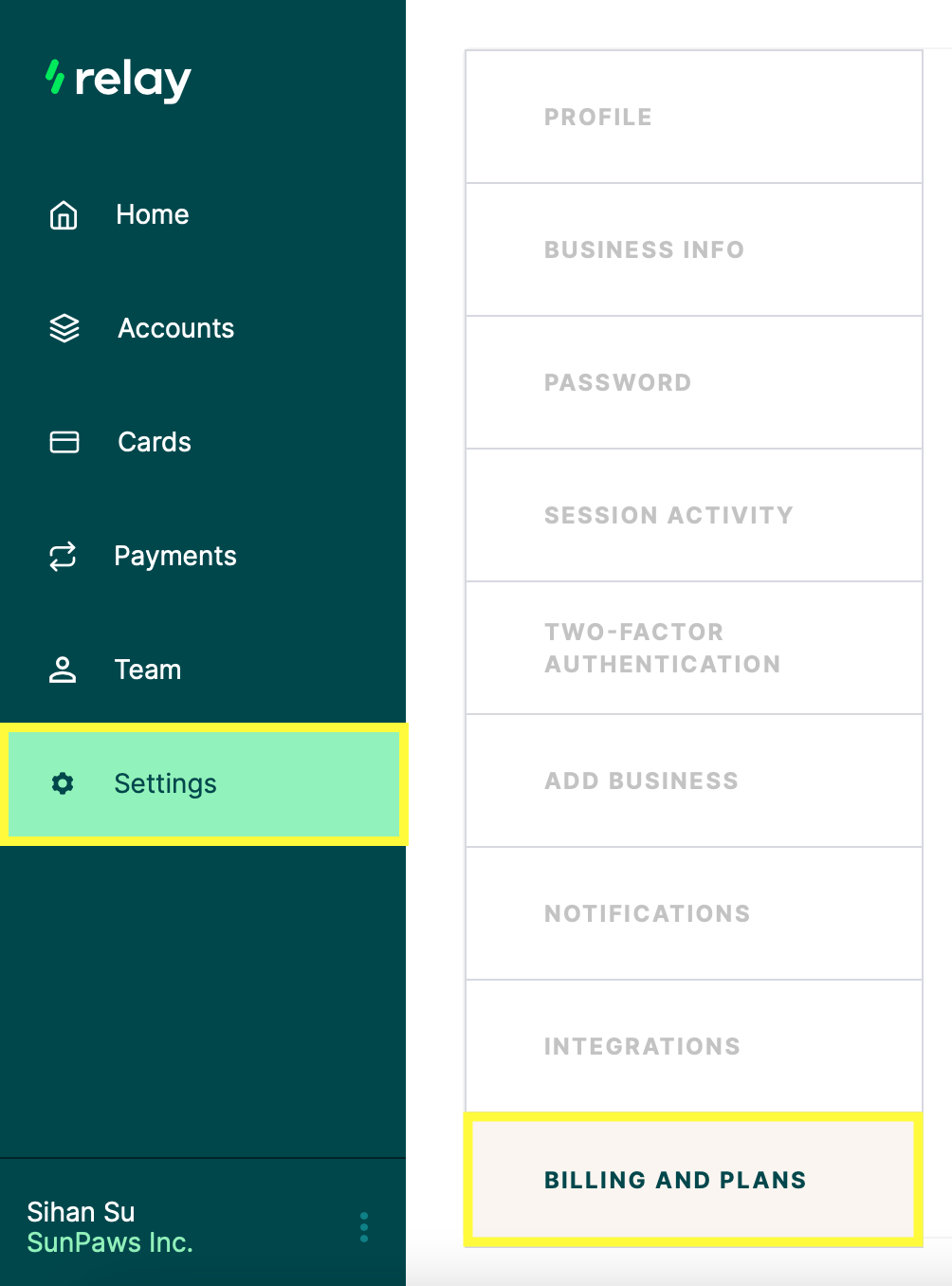 Please note that if you are an accountant or bookkeeper, your invoices will be found in your account settings within the Partner Portal, not in any of your client accounts.
Sample business invoice: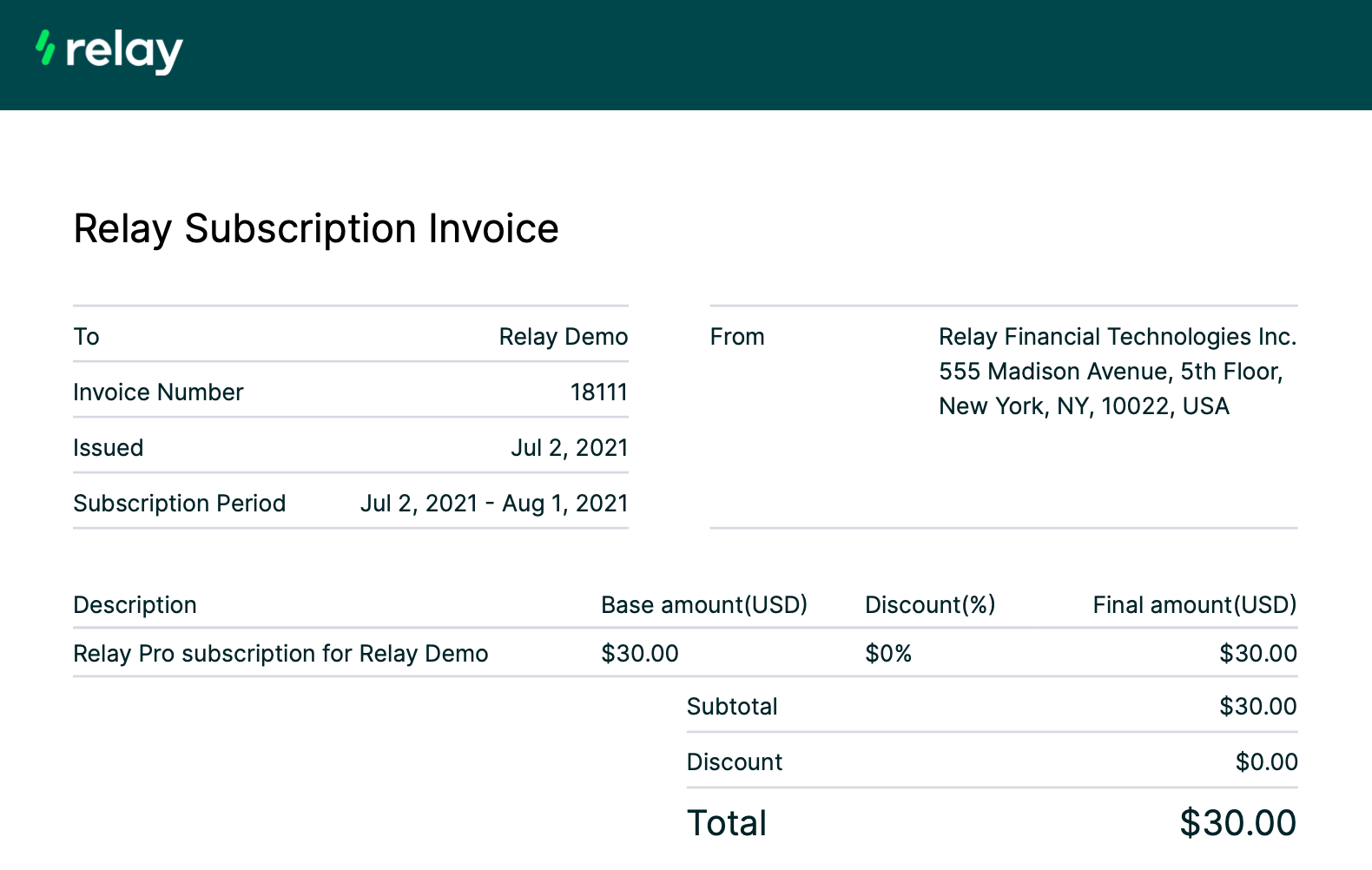 Sample accountant/bookkeeper invoice: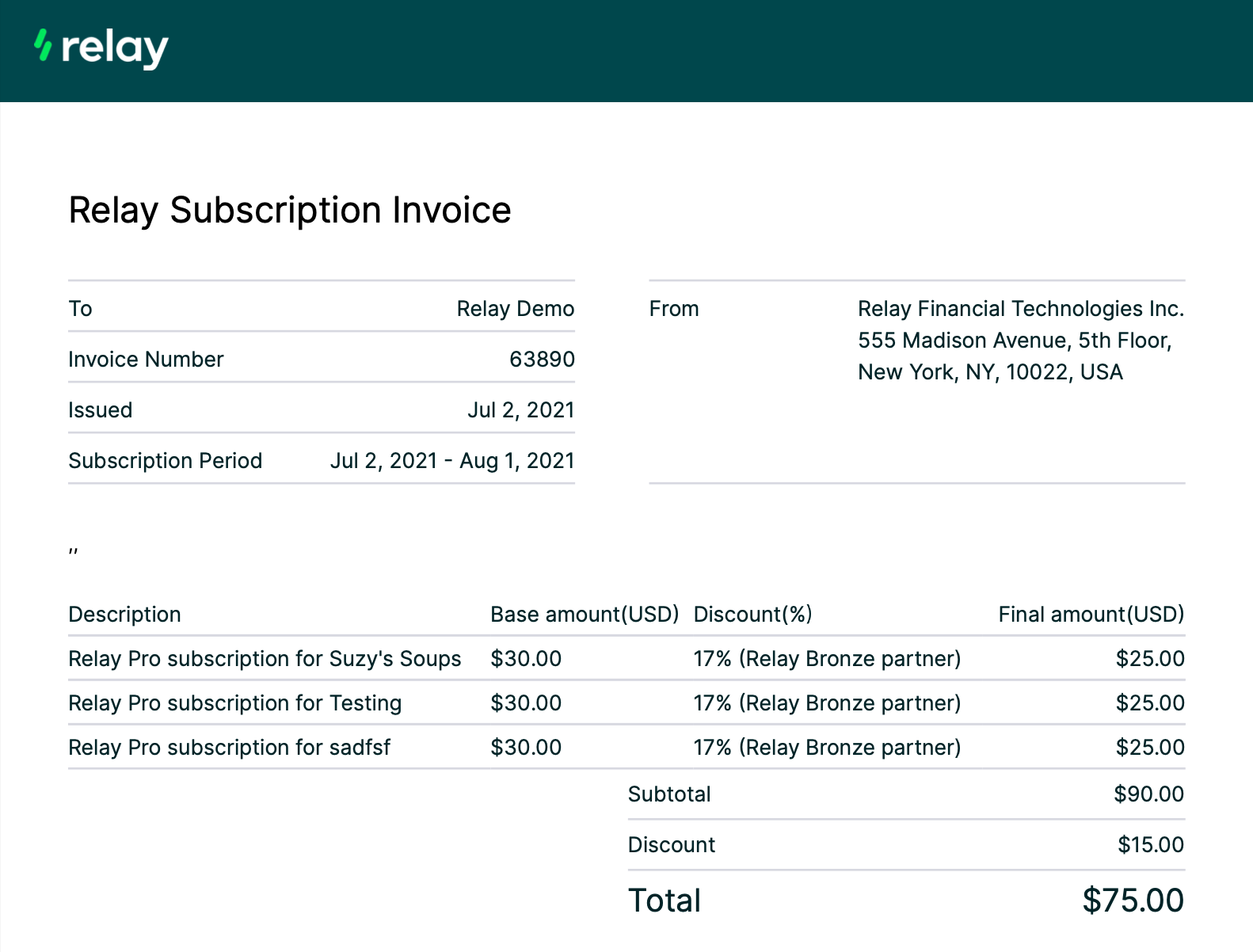 Update your payment information
For business accounts, only administrators can change the checking account that is linked to their business's Relay Pro subscription under Payment Method in Settings > Billing and Plans. Simply click on the pencil icon, select an alternative checking account, and click Save.
For accountants and bookkeepers, the same option can be found under Settings in the Partner Portal.