In this article, you will learn how to send an international wire in currency other than USD.
Sections in this Article
Before you Start
If you have not yet created a payee for the international wire, please see: Adding and Archiving a Payee for instructions on how to do so.

If you need to learn how to send an outgoing payment, please see this article: How to Make a Payment (ACH, Domestic Wire, International Wire, Check).
Steps to Convert Currency
1. Scroll to the payment method and select international wire.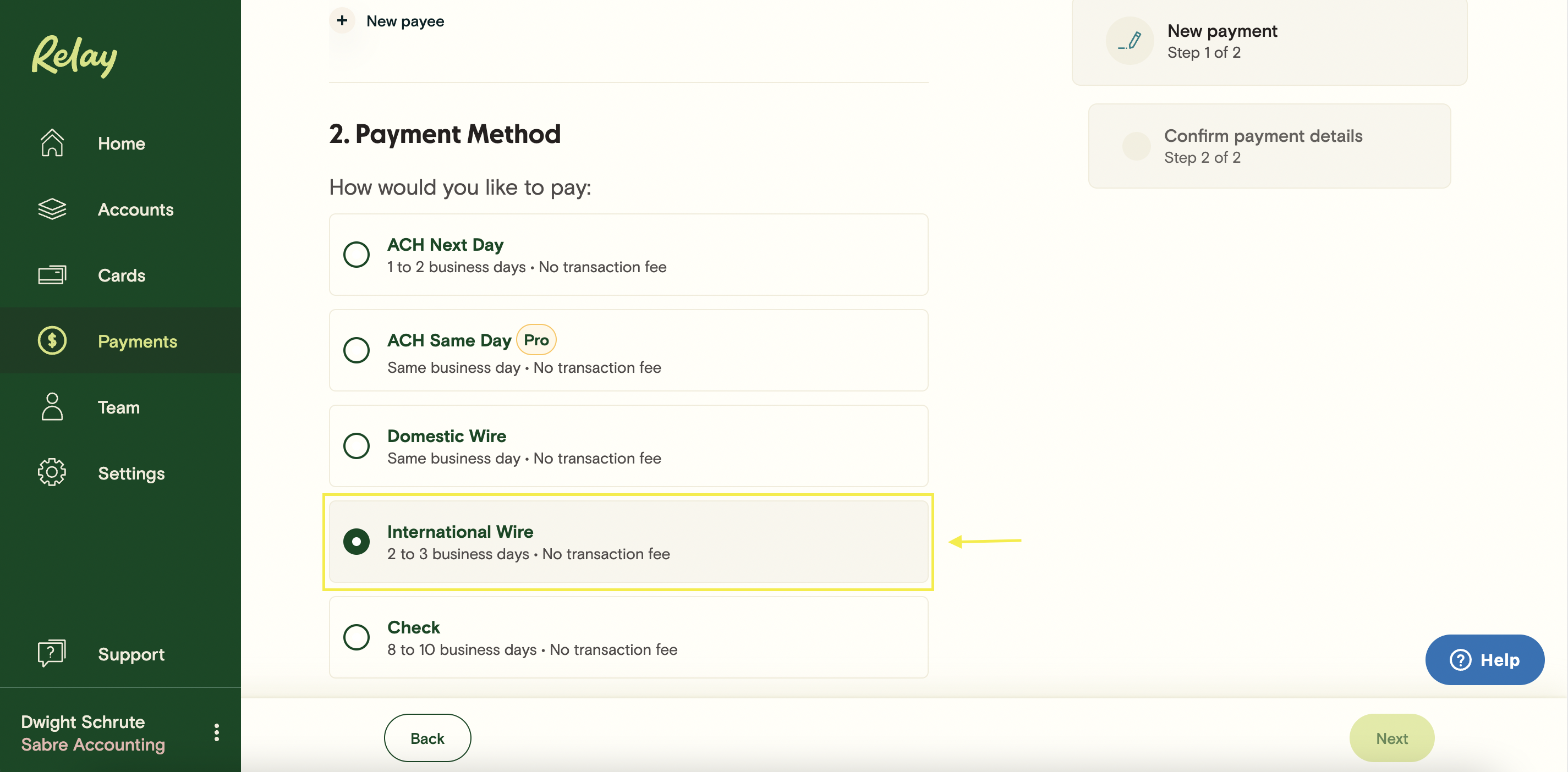 2. Select the currency drop-down option under USD.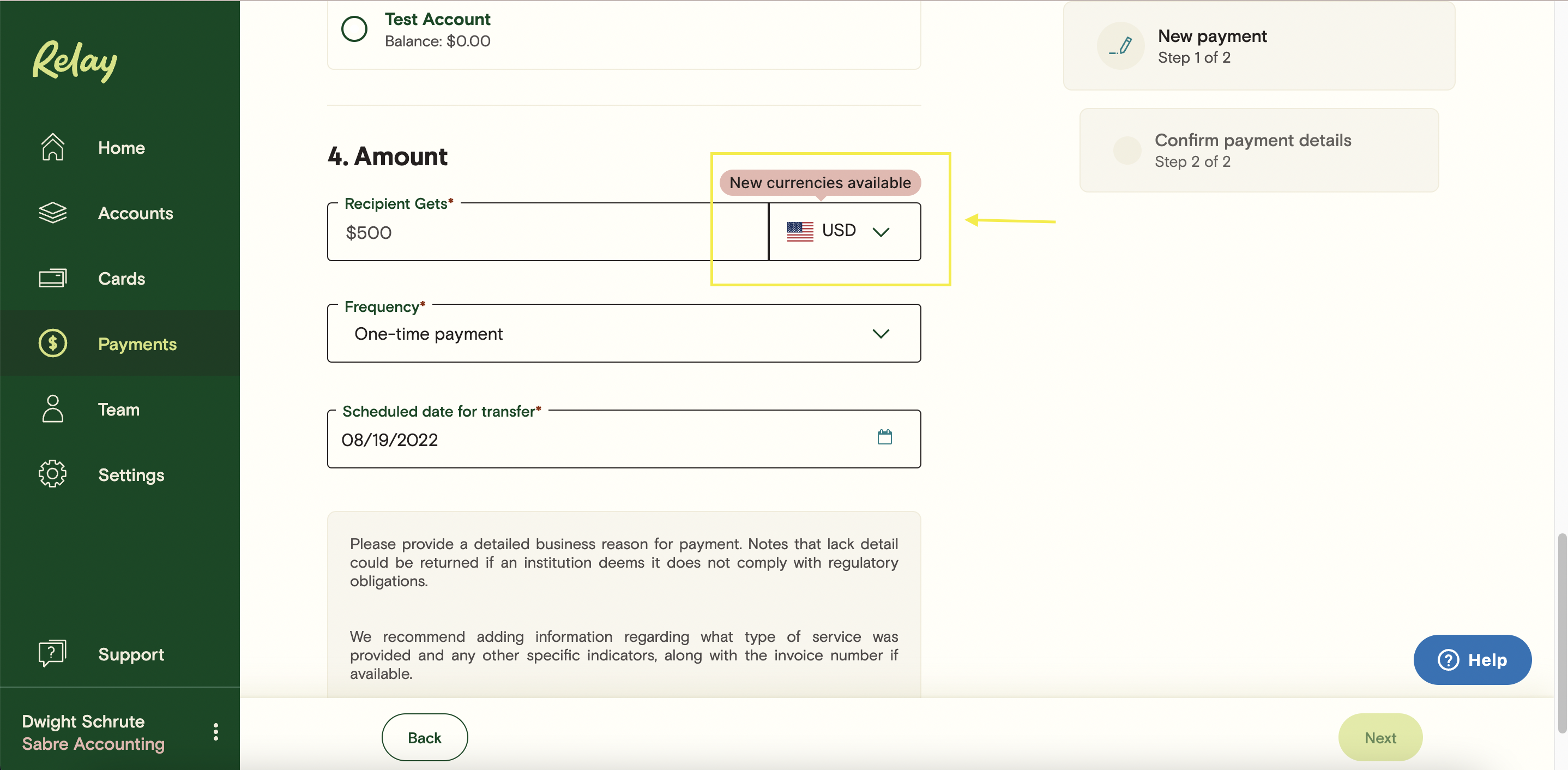 3. Select the currency you would like to convert to.
4. Adjust the sending or receiving amount. Note: if you were billed in the local currency, you can adjust the receiving amount to ensure your payee will receive the exact amount you were billed!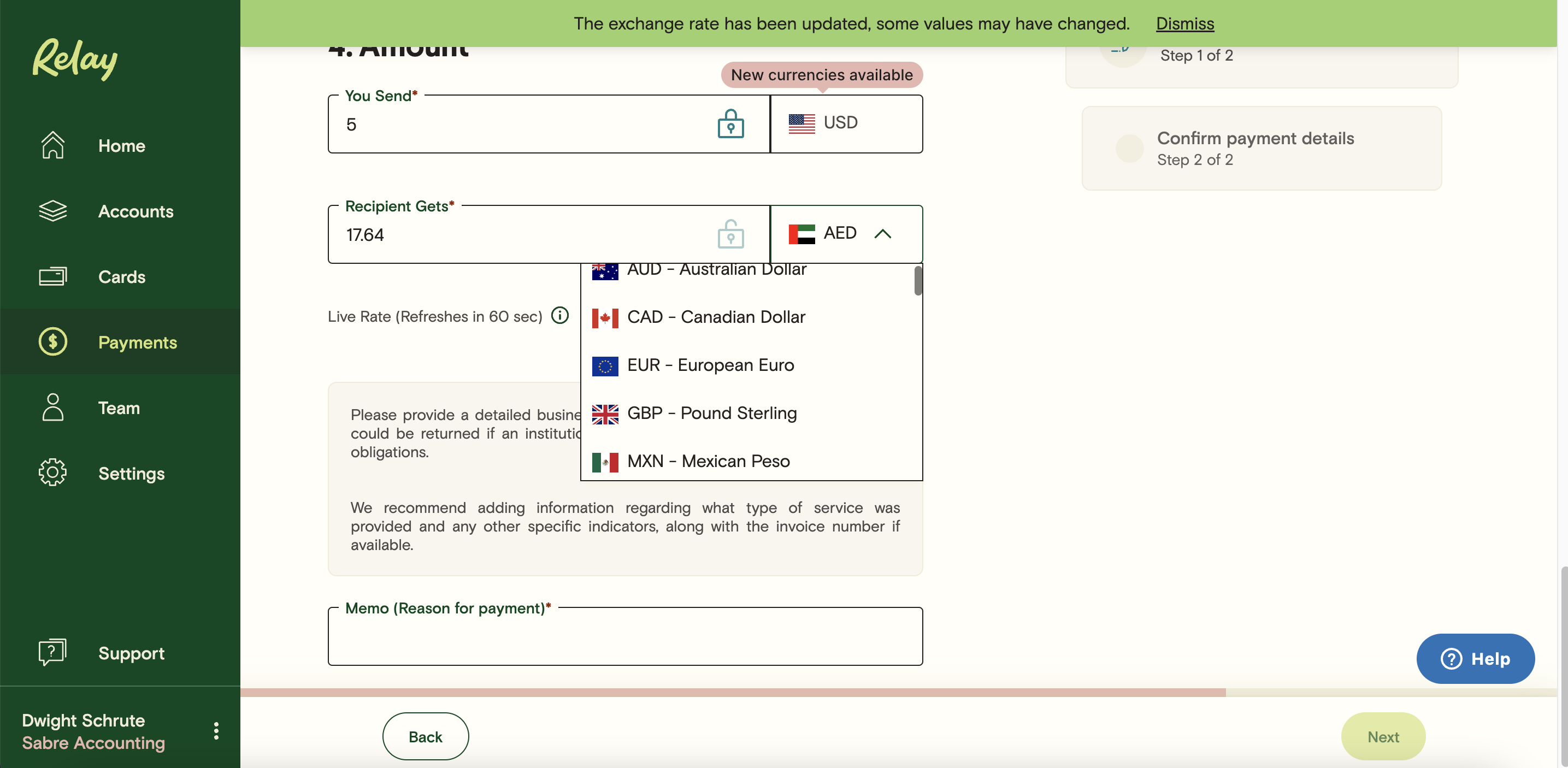 FAQ (Frequently Asked Questions)
How is the exchange rate determined?

Relay refreshes exchange rates every 60 seconds to update the rate based on the foreign exchange market. Relay will apply a competitive exchange rate fee—as little as 1%—when using the new currency exchange feature.

Is there a fee? International wires are $10 per wire (or $0 per wire if you upgrade to Relay Pro).
What currencies are available? Relay currently converts to the following currencies:

Mexican Peso (MXN)

European Euro (EUR)

British Pound Sterling (GBP)

Canadian Dollar (CAD)

Australian Dollar (AUD)

New Zealand Dollar (NZD)

Saudi Riyal (SAR)

Singapore Dollar (SGD)

South African Rand (ZAR)

Swiss franc (CHF)

Japanese Yen (JPY)

Chinese Yuan (CNY)

Israeli New Shekel (ISL)

Bahraini Dinar (BHD)

Bulgarian Lev (BGN)

Kenyan Shilling (KES)

Swedish Krona (SEK)

Croatian Kuna (HRK)

Kuwaiti Dinar (KWD)

Czech Koruna (CZK)

Thai Baht (THB)

Hong Kong Dollar (HKD)

Danish Krone (DKK)

Norwegian Krone (NOK)

Turkish Lira (TRY)

Omani Rial (OMR)

Ugandan Shilling (UGX)

Hungarian Forint (HUF)

Poland złoty (PLN)

United Arab Emirates Dirham (AED)

Qatari Rial (QAR)

Romanian Leu (RON)
Questions? Get in touch with our Support Team at support@bankwithrelay.com or 1 (888) 205-9304.